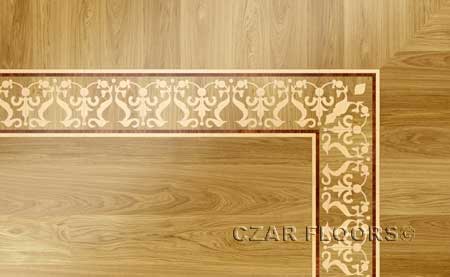 Size:
8 in.
Materials used in this product: Mouse over the thumbnails to view the materials used in this product. Check other Available Materials
Maple

White Oak

Merbau Light
General Information
Wood Borders, Model - B4 description:
Unless noted otherwise in the description all standard wood borders supplied per the following specification:
Unfinished. Wood borders can be prefinished for an additional 10% charge. Standard finish is high quality water based polyurethane, semi-gloss.
Constructed in two ways: More intricate designs are made with wood top layer glued on plywood backer. Geometrical designs are made solid wood, face-taped.
Square edge(no bevel)
Straight cut(no Tongue and Groove - T&G)
Plain Sawn wood
Standard thickness is 3/4". You may request custom thickness for inlay from 5/16" to 3/4".
Borders are sold by lineal foot in 3 ft. increments. Minimum wood floor border order is 21 ln.ft. Each border corner block is sold for the price of one lineal foot unless noted otherwise.
Wood Borders can be used to define a specific area. Borders are handcrafted in the species combinations shown on this page or one of your own specifications. Floor borders are pre-assembled modules that can be glued-down to any level, clean, dry and sound sub-floor.
Review WOOD BORDERS INSTALLATION INSTRUCTIONS
Adhesive Recommendations:For medallions and borders installation Czar Floors recommends Bostik © Best glue.


A fast curing, one-part, cartridge/gun applied, moisture cure urethane adhesive that does not contain water or chlorinated solvents, is V.O.C. Compliant and has no ozone depleting chemicals.
The glue is available from Czar Floors. You may add the glue to your order or purchase separately online. A pair of latex gloves to work with adhesive is already included with every item.
All standard products are unfinished.
Additional installation and maintenance supply can be purchased on-line.
Design Your Room using On-Line Floor Designer.
After building your floor plan, you can estimate your project cost and share it through e-mail, all from within your browsers-no extra software required.
For simple floor area and material quantity estimate use Floor Calculator.
Please note that on-screen colors are not necessarily precise representations of actual product colors due to variance in monitor calibrations. Due to natural variations, actual product appearance may vary slightly from images shown.
Colors, materials, designs and prices subject to change without notice.
Prefer to order by Phone
?
Call
800-577-2927
---