Wood Floor Medallions
Hardwood floor medallions, inlays for new and existing floors. Made in U.S.A.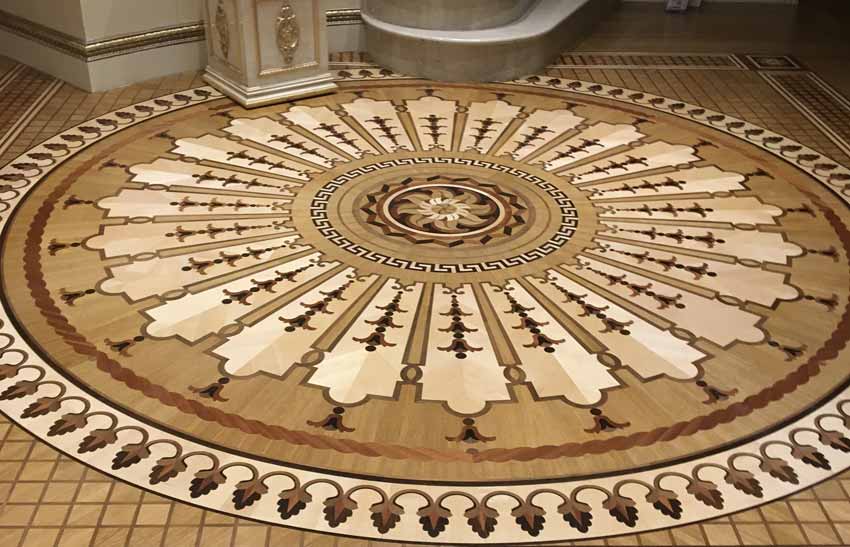 Hardwood Medallions are the crème de la crème of hardwood flooring. Wooden Medallions are available in the designs shown below or in a custom design of your own, e.g., a family crest or a corporation logo.
Our master craftsmen execute flooring medallions in the listed wood species or species combination of your choice, standard or custom sizes, and thickness. You may customize any floor medallion with elements from other flooring medallions or borders. Floor wood inlays are an elegant and easy way to beautify the existing floor. Read more...
Router Bit, Installation template is included with every wood medallion.
Free Shipping on Wood Medallions in continental US!
$0 Sales Tax outside of Pennsylvania
Wood Medallion Specifications
Unless noted otherwise in the description, all standard wood medallions supplied per the following specification:
Unfinished. Wood Medallions can be prefinished for an additional 10% charge. The standard finish is high-quality water-based polyurethane, semi-gloss.
The top wood layer is glued on the plywood backer. Larger, over 60" medallions are not glued but supplied separately as a face-taped wood layer and plywood backer to be glued on-site.
Plain Sawn wood
The standard thickness is 3/4". You may select custom thickness for inlay from 5/16" to 3/4".
Wood Floor Medallions Common Questions
What is the right floor medallion size for the room?
A good rule of thumb is to choose the size of the Wood Medallion to be about 1/3 of the width of the room. For example, if the room is 20' long by 15' wide, the floor medallion can be 60". Up to 60" in size wood floor medallion can be made as a single piece. Larger inlays supplied in precisely fit segments.
What sizes do your floor medallions come in?
Some intricate models can not be made in small sizes unless we simplify the design. However, we can scale medallions to much larger sizes and also make custom shapes. Minimum size is listed as first in available sizes for each model. For non-round medallions, size is the major length. Square medallions are measured side-to-side. Octagonal medallions are measured corner-to-corner. If medallions are ordered as part of the project - square and rectangular medallions can be scaled to match parquet tile sizes. Most 60" and 70" medallions are made as a single piece to eliminate the seems. Larger inlays may come in several segments. All large inlays pre-assembled at the factory to verify the precise fit of the pieces.
How do your wood medallions differ from the competition?
We use precise CNC routing machines to cut the wood elements of each inlay. Other producers use laser-cut, which results in burned wood edges, dark lines around the inlay elements. Clean, unburned sides of the wood pieces in our flooring medallions allow for good adhesion between the pieces and to the plywood substrate. All round medallions are calibrated to be perfectly round. Each template is made together with every medallion to ensure a good fit. We only use hand-selected, kiln-dried hardwoods for production. Marine- grade Baltic Birch plywood is used for floor medallion backer for added stability.
How are wood medallions constructed?
Standard wood medallions are made using a 3/8" top solid wood layer, glued on a Baltic Burch plywood base. The top layer is thick enough to sand the medallion with the surrounding floors. It is also thick enough for re-sanding in the future. The top wood layer is unstained, so sanding will not remove the natural color. 2-ply engineered construction allows the wood inlays to maintain dimensional stability and longevity. All inlay elements are glued together using low VOC polyurethane adhesive.
For pre-finished medallions, we use a commercial-grade, water-based sealer along with three coats of finish. By default, we use a semi-gloss shin, but other shins are available upon request.  
---
Click on the thumbnail image to review the wood floor medallion options, prices, wood species, and description. In the detail window, make sure to click on the examples images, where available, to see the astonishing floors created with our distinctive hardwood medallions. The floor medallion can make the center focal point of your room. An exciting application for the flooring medallions is to use them as custom stair landing. For even more intricate floor inlays and marquetry, check the Marquetry category. Check also Stone Medallions. Review Wood Medallions Installation Instructions.
If you are interested in the custom floor medallion, please use the contact form or call us Toll-Free at 800-577-2927. Some medallions have an icon

which indicates that you can customize woods on-line and submit it for a quote.
See our F.A.Q page to find answers to the most common questions about floor medallions, hardwood borders, and parquet flooring.
Check our line of 30" or smaller wood medallions. Many popular floor medallions are available in stock!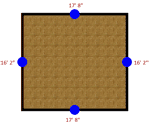 Try On-Line Custom Floor Designer
Requires modern browser such as IE9+, Chrome, Firefox, Safari. Can be used on iPad.